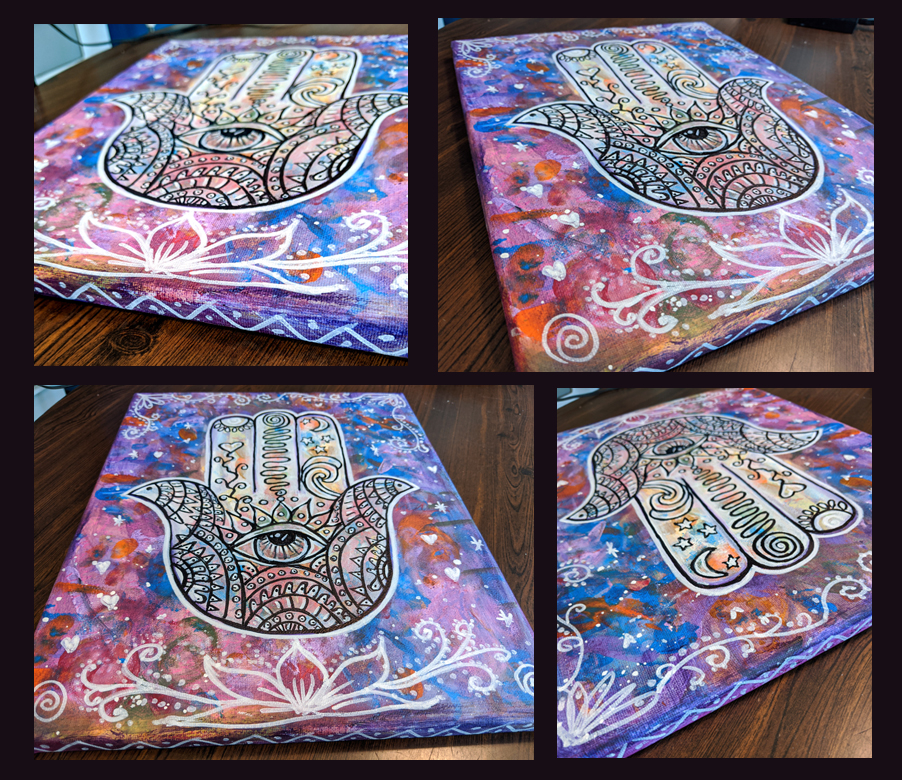 Create Your Own Personal Talisman
The hamsa symbol is rich in history and lore that spans throughout many ancient cultures. Most commonly known as a protector from the evil eye.
The hamsa is a feminine symbol of fertility and creation. It has been known as the hand of Venus or Aphrodite, as well as the hand of Mary and the Eye of Fatima.
I've put together a spiritual painting class to create your own personal hamsa. This fun and enlightening project will take you through multi-layered process of consciousness and creativity.
Part palmistry, part astrology, with a good helping of spiritual growth and development. This one of a kind class will guide you through creating your own personal talisman.
Available in days

days after you enroll

First Section
From an early age Vickie was aware of the subtle energies that surround us all. She was a psychic child who was interested in all forms of creative expression. Later in life she would come to realize the strong correlation between creativity and spirituality, as both are an expression of source energy.
This class is for everyone, regardless of your skill level!
If you've never painted before, the exercises will guide you through each step of the way.
If you are a more advanced artist you can still benefit from this course as an insightful spiritual exercise.
Supply List
Something to paint on - canvas, wood, size of your choosing. Can be large or small, any shape square rectangular, circle. The demo is on a 9 X12" rectangular canvas.
Acrylic paints - basic colors at least. You can use craft paints if you are a beginner and don't want to invest. If want to use better paints, you can buy store brand premium acrylics, or higher quality, such as Golden.
Paint brushes - a few different sizes at least.
Charcoal and/or white chalk - for sketching.
Black and white marker, paint markers such as Posca Pens.
Paper - scratch paper, notebook or journal. Needed for roughs and write out affirmations and goals to be included in the painting.
Palette - can use coated or paper plate or wax paper.
Paper towels, rags, or baby wipes.